10 Best High Energy Snacks
10

Energy-boosting snacks for

busy work and school days
Mid-afternoon is a common time of day to experience an energy drop given we've been on the go for many hours thinking and executing a variety of tasks. Regardless of if you have an office job, work from home, are a student, or are a busy parent shuttling kids to after-school activities, a healthy snack can help boost your energy for the remainder of the day.
What are the components of a healthy mid-afternoon snack?
Aim to have a combination of both carbohydrates AND protein.   
Carbohydrate-rich foods help to pick up your blood sugars so your brain can problem-solve and concentrate. Healthy carbohydrates are found in grains/starches, fruits, vegetables, and legumes. While all food can fit, aim to eat more whole foods as these are highest in vitamins, minerals, and fibre, and choose to eat less sugary and refined packaged foods that have been heavily processed. 
Protein-rich foods assist with sustaining energy, increasing satiety, and stabilizing blood sugar control. Foods that contain protein include nuts, seeds, yogurt, milk, hemp hearts, meat, poultry, seafood, and eggs. 
What are some examples of high-energy snacks?
1. Hummus Pizza 
Mini pita or naan bread topped with thin slices of cucumber and radish.  
2. Better-for-you Banana Split 
Assemble Greek plain/vanilla yogurt in a bowl with sliced banana, sliced strawberries, and crushed peanuts, and top with a drizzle of Nutella or chocolate syrup. 
3. Tropical Cottage Cheese  
Top cottage cheese with canned unsweetened peaches or pineapple and coconut. 
4. Cinnamon Apple Crunch  
Diced apples tossed with cinnamon and topped with high-protein granola and hemp hearts. 
5. Blissful Baguette 
Mini baguette slices with ricotta cheese, thinly sliced pears, crushed hazelnuts, almonds, or pistachios, and a drizzle of honey. 
6. High Protein Edamame Guacamole 
Cook shelled edamame beans (find these pre-shelled in the frozen veggie section of the grocery store) and blend or mash these with a food processor and add to homemade guacamole (or if you want to save time you can purchase the guacamole ready-made).  For a full recipe visit our blog here: Edamame Guacamole. Serve with whole-grain taco chips. 
7. Roasted Lentils 
This is a good make-ahead snack for the week ahead. Chop up your favorite raw veggies and put them into single-serving snack containers to grab quickly. Pair this with a handful of roasted crunchy lentils. You can purchase ready-made roasted lentils or instead make them at home.  Here is a recipe to try Crunchy Sea Salt and Thyme Roasted Lentils or try your own seasoning mix such as turmeric and garlic or spicy cajun. 
8.Yo-Nut Dip
Mix Greek yogurt/skyr with your favorite nut butter (any ratio is fine depending on your preference for dipping texture and flavor).  Use yo-nut dip with apples, pears, strawberries or try this with celery, carrots, kohlrabi or jicama sticks.  
9. Avocado Crackers with Everything Seasoning 
Try this variation of avocado toast on crackers.  Assemble whole grain rye crackers with sliced/mashed avocado, feta cheese or sliced hard cooked egg and a pinch of everything bagel spice blend. 
10. Caprese Salad Cracker Stacks 
Large bocconcini cheese slices with a large tomato sliced and a fresh basil leaf served on whole grain round crackers (or mini bocconcini cheese balls with grape tomatoes on toothpicks).
What are your favourite go-to snack ideas? Comment them below and find more healthy snack inspo. 
Looking for more simple soulful + healthful recipes when you're stuck on what to eat?
Sign up for our weekly nutrition newsletter: Sound Bites! It includes a healthy recipe of the week and nutrition articles and videos to help encourage healthy habits.
Our newsletter content is written by the Registered Dietitians on our team to ensure you are getting credible advice and proper guidance in your wellness journey. 
Find out why over 10,000 people follow our FREE popular resource here:
Looking for more high-energy snack ideas?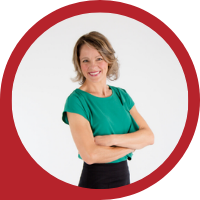 About Andrea Holwegner
CEO, Registered Dietitian, Counseling Practice Director & Professional Speaker
Andrea the «Chocolate Loving Nutritionist» is founder and CEO of Health Stand Nutrition Consulting Inc. since 2000. She is an online nutrition course creator, professional speaker and regular guest in the media. Andrea is the recipient of an award by the Dietitians of Canada: The Speaking of Food & Healthy Living Award for Excellence in Consumer Education....Read more