Healthy Lunch Ideas for Kids During COVID-19
Looking for simple healthy lunch ideas for school?
Finding healthy lunch ideas for kids isn't always easy. As many parents and childcare providers are back to packing lunches for kids, this year during COVID-19 we have some additional challenges to contend with. 
Most schools have banned the use of microwaves to reduce the number of touch points which further reduced some of the kid-friendly options for simple healthy lunch ideas. With cold and flu season just around the corner you might also be trying to figure out the best options for optimizing immune function.  Since nutrition is also a key factor in helping kids learn, grow and stay healthy for life, here are some things to consider for healthy lunch ideas for kids:
WATCH my TV Interview on Global News:
What are the 3 components to include when creating healthy lunch ideas?
A balanced lunch contains three parts:
grains/starches

veggies and/or fruit 

source of protein
Carbohydrates (from grains, starches, veggies and fruits) are fuel for your brain and therefore if you miss them you can expect kids to feel low in energy, find it hard to concentrate and also be more likely to come home hangry and cranky in the afternoon and after school.  
Protein (from meat, poultry, seafood, eggs, tofu, legumes, seeds and dairy foods) is important for satiety and sustaining energy.   If protein is missed your kids will feel like their energy, ability to concentrate and hunger is on a rollercoaster ride.
How can I get my kids interested in eating a healthy lunch?
Brainstorm a fun lunch idea list. 

Create a

Pinterest

board online, google bento box ideas, sign out cookbooks from the library, get them to come up with 10 ideas from cookbooks you own or check out my

26 healthy lunch box ideas

here and review the list with your kids as I guarantee a couple of ideas will be a hit.

Offer choice (BUT you decide the choices).

  I'm a huge fan of the strategy to provide kids with choice, but ensure YOU are in charge of framing the choices.  Provide them with 2-3 ideas of what they could have and allow them to have a say.  If you don't frame the choice kids may want to eat the same thing every day or skip out on important parts of a balanced meal that are not their favorite.

Get them involved.

The best way to encourage lifelong healthy habits is to get them in the habit of thinking about lunch and ideally packing lunch immediately after dinner. (It's also ideal for YOU the chief meal planner of your home so that you are not stuck with all of the work).  Divide and conquer the task of lunch prep in having someone washing fruit, chopping veggies, assembling sandwiches or dishing out containers of leftovers.  Also put someone in charge of slicing and packaging cubes of cheese for quick grabs, containers of nut-free snack mix with dried fruit, cereal, pumpkin seeds and pretzels or backing

nut-free energy balls

for the freezer.
What should I do if the lunch box comes home hardly eaten?
This is bound to happen sometimes.  Kids will naturally have fluctuations in their hunger and appetite depending on their growth, mood, sleep and how distracted they were during lunch.  Don't fret if lunch occasionally doesn't get eaten.  
You can choose to have them eat a larger afterschool snack and if you are worried this will spoil their dinner consider moving dinner a little later so they can build up their appetite again.

Teach your kids about WHY lunch is important and how nutrition influences their brain.  Give them funny and entertaining examples of what

hangry

looks like (angry, cranky, crazy behavior) and what

hanxiety

looks like (anxiety, worry and an inability to make decisions and think clearly due to a lack of food).  Remind them that good nutrition is important not only to grow tall but also to keep their brain from falling asleep at their desk.

Having proper brain fuel is a critical aspect of academic performance, learning and managing our behavior and emotions. If lunch is often getting missed I'd put a call into your child's teacher and ask for support.  Some kids need a bit more time, coaching or less distraction in order to actually eat their lunch. 
What are a couple of ideas I can make for healthy kids lunches?
Download my list of 26 healthy lunch box ideas for some inspiration!
Try these 3 themes Bento, Breakfast and Balls:
1. Bento Box Lunch Theme:
Bento boxes are fun for kids of all ages since it is fun to open a visually pleasing lunch box full of different colors, textures, shapes and sizes.  Many kids also love foods in different compartments instead of mixed together as they can sometimes taste fresher or be more appealing eg. a deconstructed sandwich or noodle bowl with separate ingredients just might be more appealing than one that is assembled.
When assembling a healthy bento box aim for the 3 components of a balanced meal:
Grains/starches: such as bread, pita, wraps, crackers, homemade muffins, popcorn, pasta shapes or tortellini (plain or with salad dressing), cold potato wedges, cold rice, quinoa salad or other grains.

Veggies and fruit: such as fresh fruit, frozen berries, canned unsweetened fruit, dried fruit, raw veggies, leftover cooked/grilled veggies, or Greek/caprese salad.
Source of protein: such as leftover meat/poultry/seafood, legumes (such as chick peas, lentils, black beans, refried beans and more), cheese (sliced, cubes, grated), yogurt, cottage cheese, canned tuna/salmon, hard cooked eggs, tofu, seeds.

For more inspiration on bento box lunches check out my previous blog post here for specific examples: Bento box lunches
2. Breakfast for Lunch Theme:
Most kids rank breakfast themed lunches as some of their favorite.  These can be served cold or warm in a thermos (preheat the thermos with boiling water before adding the theme to help it retain warmth).
Ideas to try are:
Cold toasted English muffin with back bacon, cheese and egg (optional as some kids will eat this cold while others maybe not).  Serve with a container of cherry tomatoes and snap peas as well as a piece of fruit.

Cold pancake sandwich with cream cheese, nut-free wow butter or sunflower seed butter and jam. Serve with sliced kiwi, melon or watermelon.

Thermos with sliced breakfast sausage (or side container of Greek yogurt) and leftover weekend waffles (try this

pumpkin waffle recipe

or

berry barley waffle recipe

) with maple syrup.  Serve with a container of fresh or frozen berries, sliced apples or pears or mango cubes with a splash of juice to make a "homemade fruit cocktail."
Overnight oats with milk, yogurt, hemp hearts, chia seeds and fruit.  Try this recipe but replace the almonds with sunflower seeds or pumpkin seeds: Overnight oats with prunes and pears or this dairy-free overnight oats recipe.

3. Bite-sized Balls Lunch Theme!
Kids are big on finger foods so why not try a lunch with bite-sized energy balls, meatballs, bean croquettes, zucchini cheese bites, falafels and more!
Here are some tasty ideas to try:
Bean croquettes:

 these are some of our families favorite vegetarian meals.  Serve warm or cold with ranch dressing or sour cream mixed with lime and cilantro.  Round out the meal with crackers, raw carrot sticks and grapes.

Meatballs.  If you have a favorite family recipe use this and serve warm in a thermos or cold.  Need a recipe?  Try the plain recipe found here on our blog and skip the sauce:

Meatball recipe.

  Make a giant batch and toss these into the freezer in lunch sized portions for busy days.

Nut-free energy balls.

Serve with one of the above bento box themes!
Simple falafals served with pita bread and hummus (or a side of cold couscous or cracker) as well as cucumber sticks and fresh fruit.
Where can I find out more information on healthy lunches and more family meal planning tips?
As Registered Dietitians that specialize in meal planning, weight concerns, emotional eating, eating disorders, digestive health, heart health, diabetes, fertility and sports nutrition our Calgary Nutritionist / Online Dietitian team can help. Find out more about our Dietitian Nutrition Counseling Programs here.
As university trained Registered Dietitians, you can count on us for credible advice and practical meal planning so you don't have to stress about food anymore. You can achieve a healthy and joyous relationship with food and your body. Let's talk about what this can look like for you. CONTACT US.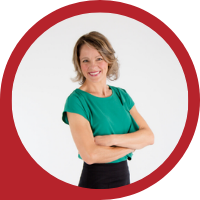 About Andrea Holwegner
CEO, Registered Dietitian, Counseling Practice Director & Professional Speaker
Andrea the «Chocoholic Nutritionist» is founder and CEO of Health Stand Nutrition Consulting Inc. since 2000. She is an online nutrition course creator, professional speaker and regular guest in the media. Andrea is the recipient of an award by the Dietitians of Canada: The Speaking of Food & Healthy Living Award for Excellence in Consumer Education....Read more