16 Healthy Work-From-Home Lunches
Why t

aking a lunch break fuels more engaged

, 

healthier employees
Looking for some ideas for a healthy work-from-home lunch?  I've got you covered!  This article will focus on why taking a lunch break is important for your health, mental health and also productivity and engagement at work.
I will also be sharing some easy, tasty and nutrition-packed ideas that you can make for a healthy lunch at home. 
The current situation for physical and mental health 
The Canadian Mental Health Association reports that in any year, 1 in 5 Canadians will experience a mental health problem or illness.  They also report that by age 40, about 50% of the population will have or have had a mental illness.  Since the pandemic, 40% of Canadians report a decline in mental health.   
For our Registered Dietitian team, the pandemic has also substantially increased the number of eating disorders we are seeing in our practice. Many of the psychologists and therapists we collaborate with for care of clients struggling with an eating disorder have been challenged with caseload capacity due to a significant rise in mental health struggles.  It is estimated that over 1 million Canadian have a diagnosis of an eating disorder. 
When we look at current population health trends there are also significant concerns for physical health.  Let's take a look at diabetes and cardiovascular issues that are two very common concerns influencing employee health and that are showing up for employers in HRA (health risk assessments) and biometric screening for workers.    
Diabetes Canada reports 1 in 3 Canadians either living with diabetes or prediabetes. They also report that every 24 hours, 620 Canadians are diagnosed with diabetes, over 20 Canadians diet of diabetes-related complications and 14 people have a lower limb amputation because of diabetes. 
For heart disease and stroke, the good news is Heart and Stroke report the death rate has declined more than 75% over the past 60 years for Canadians.  Unfortunately though heart disease, stroke and related conditions take a life every 5 minutes and there are still 1.6 million Canadians living with heart disease and stroke.  In fact, 80% of premature heart disease and stroke are preventable. 
The benefits and stats about taking a lunch break
While we may not be able to change some of the sobering statistics mentioned above, we can take small steps towards improving our mental health, physical health and productivity, which all start with simply taking a lunch break.   
A fascinating study on North American workers and lunch breaks found that workers who take a lunch break every day score higher on a wide range of engagement metrics such as job satisfaction, efficiency, likelihood to continue working at the same company and likelihood to recommend their employer to others.
Despite many workers valuing taking a lunch break more often, taking adequate lunch breaks is still not a top priority for many workers.  

 
It seems personal workload is the greatest influence on whether or not employees take a lunch break than external pressures like their boss or company policy.  

 
Bosses in North America claim they encourage employees to take a lunch break every day, but their employees are less likely to agree.  

 
There are also unfortunately some bosses that seem to look down upon employees who take regular lunch breaks.  This needs to change.
The bottom line on work-from-home lunch breaks
Take back your lunch break!  Stop eating mindlessly or scarfing down your lunch in minutes in front of a computer.  If you've found you've gotten in the habit of skipping your lunch break please give yourself a break. 
Take a mental break from the screen, step away from your desk and prioritize making yourself a healthy lunch. Your physical health, mental health and productivity will all be positively influenced by this habit.  Give it a try and see what you think!
If you are an employer or manager, lead by example.   
Talk about the importance of this habit with your remote teams and walk the talk.  Share this article. 

 
Provide them with clarity that the organization values this habit and that no one will be viewed as less productive for having boundaries around taking a lunch break (remind them it will be viewed as quite the opposite).  

 
Create an organizational environment that ensures meetings are not booked at this time (unless of course, this is to socialize and to casually connect). 

With so many organizations scrambling to figure out how to best address employee mental health concerns, respecting the lunch hour is one thing you can do that shows your care about the personal health, mental health and productivity of your employees.

 
Looking for some ideas on what you could have as a healthy work-from-home lunch?  Here are some ideas to get you started.
The foundation of a healthy work-from-home lunch
The good news is a healthy work-from-home lunch doesn't need to be complicated.   
A balanced lunch contains three parts: 
Carbohydrates (from grains, starches, veggies and fruits) are fuel for your brain and therefore if you miss them you can expect to feel low in energy, find it hard to concentrate and also be more likely to experience " hanxiety" and becoming "hangry."  Missing carbohydrates in your lunch may also trigger overconsumption in the afternoon and evening. 
Protein (from meat, poultry, seafood, eggs, tofu, legumes, seeds and dairy foods) is important for satiety and sustaining energy.   If protein is missed you will feel your energy, ability to concentrate and hunger is on a rollercoaster ride. 
Healthy work-from-home lunch ideas
 Stuck for a work from home lunch idea?  Try some of these options as a healthy lunch at home (these also work great for supper as well). 
Grown up grilled cheese with a side of raw veggies.  While a traditional grilled cheese on whole grain bread is always a good choice, also consider brie cheese with apple slices, blue cheese with pear slices or a 

Monte Cristo sandwich

.

 
Enjoy this beautiful and nutritious recipe for

Avocado Toast with Ricotta

.  No cooking skill required!

 
Tostadas!  Sometimes the best things in life are really this simple.  Try this delicious

5 Minute Vegetarian Tostada Recipe
Make a can of black bean soup more inspiring by adding nacho toppings such as cheese, avocado and tomatoes like this recipe here for 

Loaded Black Bean Nacho Soup

.

 
Make this

Easy Black Bean Quesadillas

 recipe.  You might even want to make double so you have the leftovers for tomorrow.

 
Intentionally cook extra grilled meat or tofu the night before so you have leftovers for lunch so you can easily toss together a salad with your grilled protein.  Serve with a side of whole grain garlic toast.

 
These make ahead

Spicy Ramen Cup of Noodles

 are also a great make-ahead option.

 
Make a grain based salad with any leftover rice, quinoa, pasta or other grains leftover from dinner (orlike in the photo below freeze grains in greased muffin tins so you always have them on hand to grab from the freezer).  Toss in whatever raw or leftover cooked vegetables you have on hand and a source of protein such as leftover meat/poultry/seafood/tofu/legumes for protein.  Top with your favorite salad dressing or stir-fry sauce.

 
Enjoy this simple

Ham and Egg Quesadilla

.

 
Make a batch of these

Easy Chickpea Burgers

 and keep them handy in the freezer so you can reheat on a pan.  Serve with your favorite burger condiments such as lettuce, tomato, mustard, ketchup and pickles.

 
Make breakfast for lunch.  Enjoy pancakes, waffles, crepes or French toast and serve with Greek yogurt and fresh fruit.  Try this recipe for

Pumpkin Waffles

and keep leftovers in the freezer for another day.

Make a

frittata

 with whatever you have on hand.  Here is a simple recipe with multiple variations.  Serve with a side of toast and carrot sticks. 

 
Make a buddha bowl with leftover rice, yams, baby potatoes or leftover or frozen cooked grains (see the tip in #8 above).  Use leftover grilled protein in a recipe like this

Cilantro Lime Chicken Bowl

 or use black beans and make this 

Burrito Bowl.

  

 
Make this

Spectacular Speedy Shrimp

 recipe and serve with couscous which takes minutes to make.  Serve with frozen steamed peas or sliced cucumbers and red pepper sticks.

 
Assemble a Mediterranean inspired bento box with whole wheat pita bread, hummus, olives, cubes of cheese, cucumber sticks and red pepper slices. For more bento box ideas check out our previous post here: 

Bento Box Ideas

.

 
Bake a flatbread in the oven with pesto or tomato sauce, spinach, peppers, canned artichokes, ham/sausage/leftover grilled chicken (optional) and grated cheese.
Whatever you decide to eat at lunch from home, take the time to eat away from distraction and enjoy a technology-free meal!
Don't forget to bookmark or print this page for whenever you need some inspiration!
Do you have a favorite healthy lunch idea you'd like to share?  Let us know in the comments below. 
Interested in more healthy eating tips, videos, and recipes?
Enjoy this blog post? Check out some of our previous blog posts below.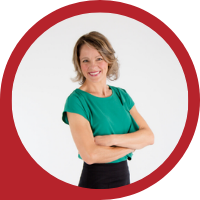 About Andrea Holwegner
CEO, Registered Dietitian, Counseling Practice Director & Professional Speaker
Andrea the «Chocolate Loving Nutritionist» is founder and CEO of Health Stand Nutrition Consulting Inc. since 2000. She is an online nutrition course creator, professional speaker and regular guest in the media. Andrea is the recipient of an award by the Dietitians of Canada: The Speaking of Food & Healthy Living Award for Excellence in Consumer Education....Read more