Our Top Healthy Food Recipes of 2019
Reviewing 10 of our favorite Dietitian healthy food recipes this year
Since our Registered Dietitian team shares healthy food recipes every week on our nutrition and balanced living blog and in our weekly newsletter we had MANY recipes to choose from!  Here is a list of some of our all time favorites to help you start off 2020 on the right path to healthful and soulful living. We've got lots of good ideas planned for 2020 and look forward to serving you up more nutrition articles, videos, courses and recipes this year!
Freezer friendly plant-based vegetarian recipe
This dietitian recipe is simple to put together and cooks up beautifully in the crockpot. Add more coconut milk if your family finds it too spicy, or top with a little sour cream. You can use any type of lentil, but the red ones will make more of a soft texture, as opposed to a firmer lentil,  which will give a different mouth-feel for the dish. Either way, this is a delicious, vegetarian, high fiber meal that is easy and inexpensive. (As a tip, the leftovers make a great topping for baked potatoes!).
GRAB THE RECIPE
Healthy Registered Dietitian approved family recipe
This healthy recipe works great for families as you can place the ingredients in separate bowls and allow each family member to select their favorite ingredients.  GRAB THE RECIPE
Top appetizer or picnic lunch recipe
This delicious recipe is a summer staple! So many fresh flavours combine to make a tasty dip, or topping on a burger.  Serve this as a healthy appetizer, picnic lunch or snack idea. GRAB THE RECIPE
Healthy packable breakfast recipe for oatmeal lovers!
Calling all oatmeal lovers!  This Registered Dietitian approved make-ahead breakfast (or snack!) recipe works great eaten fresh or pulled out of the freezer and reheated for busy mornings.  Although you may think this is a muffin recipe, think of this more like oatmeal, conveniently baked into a cup. GRAB THE RECIPE
Nut free school-friendly recipe for kids (and adults!)
This mom dietitian-approved healthy cookie recipe is sure to please kids and adults.  Pack them in your lunch or enjoy them as a healthy snack or dessert. GRAB THE RECIPE
Simple marinade for salmon or salmon skewers
This delicious BBQ recipe for ginger lime salmon skewers is rich in heart-healthy omega-3 fats. Serve over rice and enjoy! GRAB THE RECIPE
Simple weekday plant-based vegetarian burger recipe
This delicious plant-based chickpea burger is easy to make, and can be eaten fresh or made ahead and frozen in patties for quick weekday vegetarian meals on the go. GRAB THE RECIPE
Enjoy pork with apples for a Sunday dinner recipe
This is a tasty Sunday night dinner recipe that features tender pork tenderloin and sweet apples that was adapted from a similar recipe I've been making for years by the authors of the cookbook Best of Bridge.  Balance this recipe by adding some rice, steamed broccoli/asparagus/green beans, and a salad. GRAB THE RECIPE
Try this simple, healthy roasted carrots recipe
This is a simple, yummy way to cook root veggies since roasting brings out the natural sweetness in foods. Serve as a vegetable side dish or enjoy added to a tossed green or pasta salad leftover the next day. GRAB THE RECIPE
School friendly recipe! Nut-free energy balls
This recipe is found in the School Year Survival Cookbook by Laura Keogh, and Ceri Marsh, and adapted by Andrea Holwegner. A great take-along, or add to lunches as a dessert or snack idea. You can even get the little chef in your home to help make these. GRAB THE RECIPE
Looking for more credible healthy eating advice?
We hope you enjoyed our top healthy food recipes of 2019.
To make sure you don't miss any of our upcoming posts subscribe for free to our weekly nutrition newsletter.  We've got lots of good content, healthy recipes and videos planned for 2020. 
Join us here: Subscribe to free weekly Sound Bites nutrition newsletter.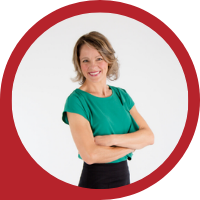 About Andrea Holwegner
CEO, Registered Dietitian, Counseling Practice Director & Professional Speaker
Andrea the «Chocolate Loving Nutritionist» is founder and CEO of Health Stand Nutrition Consulting Inc. since 2000. She is an online nutrition course creator, professional speaker and regular guest in the media. Andrea is the recipient of an award by the Dietitians of Canada: The Speaking of Food & Healthy Living Award for Excellence in Consumer Education....Read more