Healthy Appetizers for the Holidays [VIDEO]
Happy Appies to Make With Your Family for Comfort and Connection
Public health restrictions have dramatically shifted how we celebrate the holidays. Regardless of whether or not holiday parties, impromptu friend gatherings and large family celebrations are possible this year, I want to encourage you to create some new holiday traditions with your own household or small group cohort.
This starts with thinking about simple healthy appetizers and other things you can cook together.
In this blog post, I share tips to get family involved in cooking together as well as 12 easy appetizers you can make this holiday season!
Cooking Together for Comfort and Connection
We eat for many reasons including nourishment, socializing, family traditions, emotions, environmental triggers, cravings and more. Perhaps what we need most right now is comfort and connection. While many families cook together regularly, in my work as a Dietitian I've also found this is not always the case. Sometimes food is consumed sporadically, without thought and cooking is thought of as a dreaded task.
This holiday season I'd love for you to consider creating some new family rituals and traditions for cooking together. While there is absolutely room for more traditional holiday food preparation such as baking gingerbread cookies and shortbread, think broader as well. Plan a tapas theme of healthy appetizers you can assemble together over good conversation. Make a handful of appetizers the entire meal or choose one item and then dive into a card game or board game instead of reaching for tech or television.
WATCH the Interview on Global Morning TV here:
Set the Mood
Pick an evening and tell your family you've got a fun finger food Friday or happy holiday appetizer night planned and that you'll need their help to assemble things.
When you are ready to prepare your food items, turn off all technology and turn on some festive music or take turns playing a favorite song or album from the past.
Enjoy a cocktail or in a wine glass or martini glass, pour yourself a sparkling water with a splash of cranberry juice or a squeeze of fresh lemon with pomegranate seeds.
Divide and Conquer the Food Prep
Decide who will do what. Teach younger kids to use a knife, thread skewers, stir things together, arrange things on a plate or create a fun table setting with decorations and candles. Adults and older kids can divide and conquer the rest of the food preparation.
Looking for some ideas to get you started?
Healthy Appetizers for the Holidays
1. Christmas Tree Charcuterie Board
Get a large tray or cutting board and assemble your charcuterie board in the shape of a Christmas tree. Ideas to include: whole grain crackers with cream cheese and hot red pepper jelly, pickles, pickled green beans, veggies and dip (carrots, celery sticks, radishes, snap peas, broccoli, cauliflower and red peppers), green/red olives, fruit (green grapes, pomegranate wedges, kiwi fruit, strawberries, pineapple), dried cranberries/cherries, nuts (pistachios, cashews, almonds) and cubes or slices of cheese.
 2. Roasted, Spiced Chick Peas/Lentils
 Try our recipe for Roasted Spicy Chick Peas or these Crunchy Sea Salt and Thyme Roasted Lentils for an aromatic and tasty crunchy taps idea.
3. Guac & Chips
 Make a traditional guacamole or try some of these 5 Guacamole Variations here and serve with green and red taco chips or make your own baked chips using red or green flour tortilla wraps and cutting into wedges with scissors and brushing with oil and baking in the oven until crisp.
4. Greek Salad Wreath
Thread cubes of feta cheese, red peppers, black olives, purple onion, and cucumbers on toothpicks and assemble them in the shape of a wreath on a plate or tray.
5. Lettuce Wraps
Add grilled chicken, shrimp, tofu to a Romaine lettuce leaf or butter lettuce leaf and drizzle with balsamic crema and top with goat cheese (or alternatively go with your favorite Asian dipping sauce, try this recipe for Hoisin Turkey Lettuce Wraps or our homemade hoisin sauce here.
6. Cucumber Bites
 Top cucumber slices with whipped cream cheese and cooked shrimp, smoked salmon, roasted red pepper or sundried tomatoes packed in oil.
7. Skewers
Try this tasty recipe here using frozen mangos: Mango Shrimp Skewers or skewer meat, chicken, shrimp or tofu marinated in your favorite vinaigrette and grill or bake. Also try canned/jarred artichokes and sliced fresh red peppers and thin slices of zucchini as well.
8. Chicken Fingers
Try one of these 2 recipe variations from our blog. Pecan Parmesan Chicken Fingers or Classic Chicken Fingers
This festive colored dip is good anytime of the year you can find good avocados!
11. Fun Dessert!
Make this yummy no-bake recipe for Nutty Chocoholic Balls or Nut-free Energy Balls and if you have kids ask them to do an internet search for "Grinch Fruit Kabobs" so they can see a visual of how assemble these fun skewers (take a toothpick and place a green grape lengthwise to create the head and on top create a Santa hat by placing a slice of banana and whole pointed strawberry with a mini marshmallow on top).
12. Christmas Wreath Salad
Use whatever greens you have on hand and cut beets, oranges, and apples into fun shapes. Assemble into a wreath shape, sprinkle pomegranate seeds and place honey mustard dressing in the middle!
Looking for more holiday nutrition tips, recipes, and videos?
Sound Bites is a weekly newsletter written by our university-trained Registered Dietitians. Get the latest nutrition tips, healthy recipes, videos, and more!
Join thousands of subscribers, and sign up for the newsletter, today! Receive a FREE copy of our '52 Snack Attacks' PDF by subscribing now.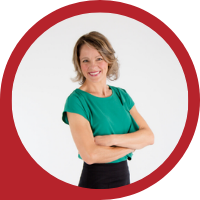 About Andrea Holwegner
CEO, Registered Dietitian, Counseling Practice Director & Professional Speaker
Andrea the «Chocolate Loving Nutritionist» is founder and CEO of Health Stand Nutrition Consulting Inc. since 2000. She is an online nutrition course creator, professional speaker and regular guest in the media. Andrea is the recipient of an award by the Dietitians of Canada: The Speaking of Food & Healthy Living Award for Excellence in Consumer Education....Read more